Overview
In 2013 Hewlett Packard partnered with Managed Office Solution provider Portal for the delivery of a business driven, tailored, fully managed office facility and data centre at Sherwood Park, Nottingham.
The 52,500 sq ft facility delivered by Portal comprises two floors of high quality office environment and the property provides a fit-out, FM and supporting services aligned to HP's business requirements. Included in Portal's provision is the management of a 5,000 sq.ft. Tier 3 Data Centre Environment.
Key Challenges
The site was built from a greenfield site to client occupation within 14 months of the initial meeting.
A 5,000 sq. ft. data centre was installed whilst the site was in live occupation.
A new independent IT & T distribution network was required over and beyond that of the existing infrastructure whilst ensuring the existing infrastructure remained functional for multi occupier requirements.
Significant enhancement of security installation in targeted areas to meet needs of a specific client.
Core Benefits
Allows the client to focus on their core activity. A qualified dedicated Facilities Manager provides a single point of contact for the entire facility and its operational infrastructure.
Portal's Managed Office solution delivers unrivaled flexibility for HP to align the property with changing business requirements; allowing them to meet their customers' needs effectively.
Released the client from associated upfront capital expenditure commitments.
Provides cost clarity throughout the contract and a 'clean' exit at term, enabling effective budgetary forecasting.
"At Portal we are dedicated to delivering a professionally managed facility that is cost effective, efficient, and mitigates our client's risk. Our FM team adhere to stringent service level agreements and provide a single point of contact for the entire facility and its operational infrastructure. In addition, the solution provides cost certainty over contract term and enables the client to focus on their core activity"
Derek Clogg, Portal Managing Director
What Was Included In The Solution
The work space delivered to the client by Portal provides:
Open plan office space with a capacity for 550 workstations
Tier 3 10,000 sq ft Datacentre environment
Meeting and conference rooms
Breakout and relaxation areas
Secure working areas to meet HP's contractual regulations
Security – automated barriers, internal security turnstiles, proximity access control, Internal and external CCTV, Internal PIRs, external red line beam
On site restaurant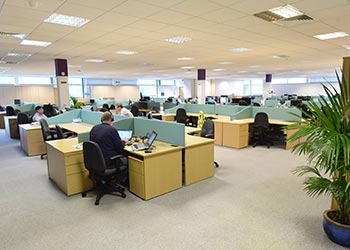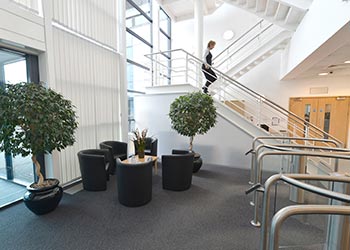 Portal's on-site service provision comprises:
Qualified and accredited on site manager, providing a single point of contact for HP
Manages suppliers, health and safety and day to day running of the site
Provides regular performance reports to client based on agreed KPIs.
FM provision for the Office and Data Centre environment including:

Cleaning
Preventative and reactive maintenance

Reception services
On site catering